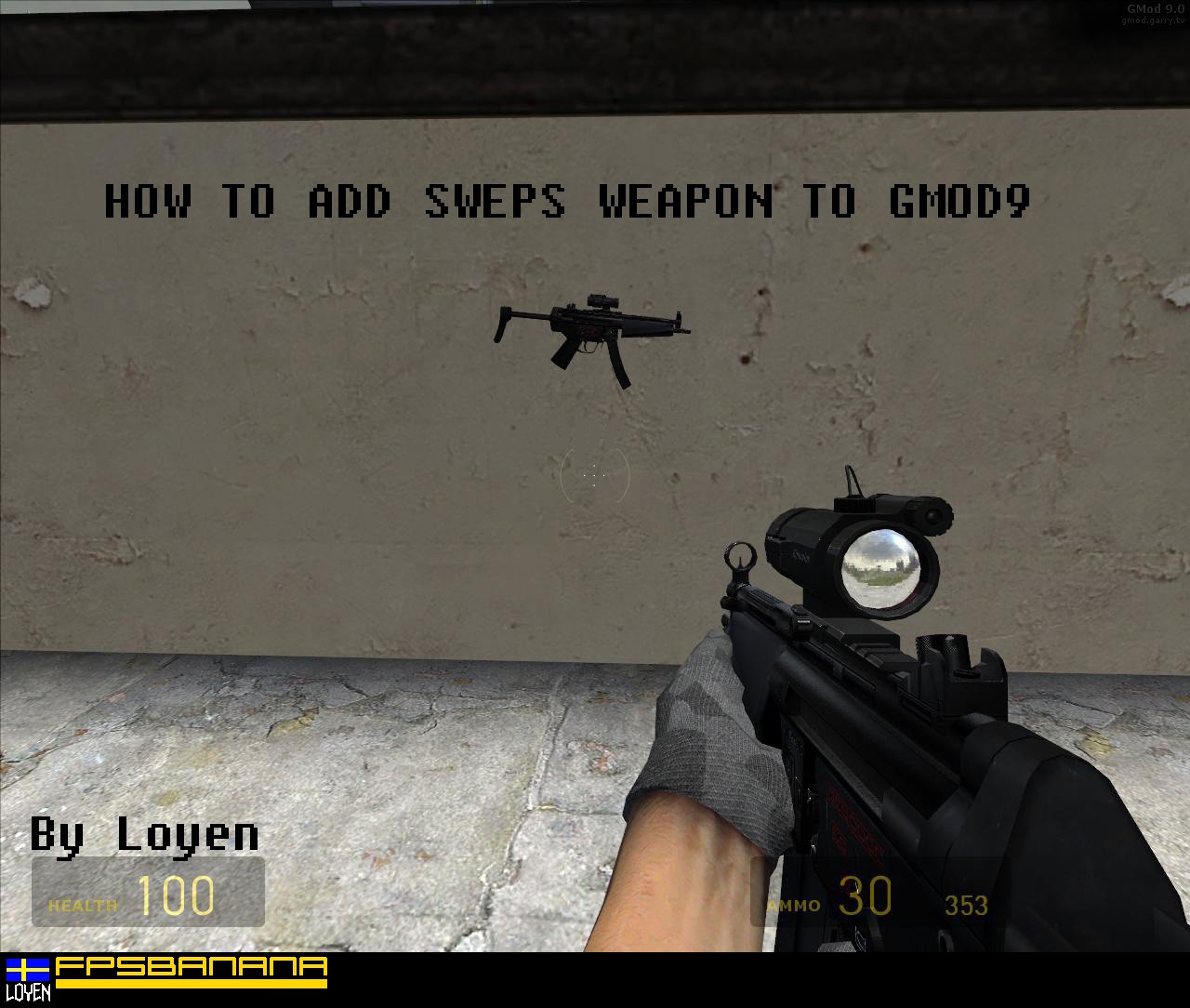 In this tutorial you will learn how to add new SWEPs. It's pretty hard in the beginning, but it will get easier with time.
Start of with open your Gmod9 Folder (usually it will be in C:\Program\Steam\steamapps\SourceMods or somethin' like that)
2. Go to folder "lua/weapons/counter-strike" (if you want to add one of your hacks or favourite Css weapon as a new SWEP so you won't overwrite the old model).
3. Copy the lua-file for the weapon that the model is for and go out from the "counter-strike" folder and make a new folder (named to whatever you want) and paste the lua-file in there. Picture 1
Now the folder name will be the name of the category the weapon is in gmod9 and the *lua-files name (in this case "MP5Navy.lua) will be the name of the weapon in the category. Rename it if you want it to have another name. I renamed mine to "MP5Tactical.lua" (.lua will not be seen in gmod9).
Now, open the lua in notepad (or other text editor) and look after following lines (the files below is just in this case, it can be in other cases "M4a1" or somethin') Picture 2
function getViewModel( ) return "models/weapons/v_smg_mp5.mdl"; end function getWorldModel( ) return "models/weapons/w_smg_mp5.mdl"; end
----This is the model files that gmod will load when you press the weapon SWEP button in-game. In my case I add "Tactical" after mp5.----
function getClassName() return "MP5 Navy"; end
-----This will be the class name----
function getPrintName() return "MP5 Navy"; end
----This will be the Printname----
5. Now to the weapon model. Open the weapons qc-file. Name the $modelname "weapons\v_smg_mp5.mdl" To the weapon model that the lua will load. In this case I just add "tactical" after mp5. Picture 3*
6. Then compile the weapon. (if you use GuistudioMDL compile to one of the games (like Css) and then go to cstrike/models/weapons folder cut out your weapon files and paste it in gmod9/models/weapons. copy the weapons materials to the right place in gmod (you only have to paste the materials folder in gmod9 folder)
Now you're ready to rumble!
Hope this was a easy read for being a first time. :)
//Loyen